MAT2® Michigan Advanced Technician Training Program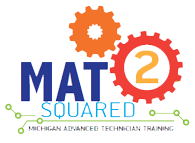 MAT2®– the Michigan Advanced Technician Training Program – is an innovative, industry-driven approach to education. Developed in conjunction with global industry technology leaders to combine theory, practice and work to train a globally competitive workforce, MAT² addresses two critical issues facing the manufacturing and technology industries: a widening skills gap and an aging workforce. This initiative functions similar to an apprenticeship program, where students alternate between classroom instruction and on-the-job training, gaining the necessary hands-on skills and real-world experiences for them to become a successful and productive member of the workforce.
Attention Metro Detroit Manufacturers: Attend a webinar to learn about a new grant program designed to reduce training costs and increase the number of apprentices in the Michigan Advanced Technician Training program.
Webinar date: Thursday, January 26, 2017 at 3 p.m.
The webinar will focus on the excellent return on investment that MAT2 delivers as an industry-developed, dual-education training program along with keynote speakers.
To register for the webinar and learn more about the MAT2 Employer Training Grants email wda-mat2@michigan.gov.
Apply today for training in one of two programs: Mechatronics or Computer Numerical Control (CNC).
MAT2 Employer Information
Michigan Advanced Technician Training

High School Seniors and Recent Graduates

View news and success stories about the MAT2 Program